power supply ( input 120 - 240 v ) output 12 - 13.8 v . 10 amp
power supply ( input 120 - 240 v ) output 12 - 13.8 v . 10 amp
Product Details:
Perfect for hot tubs and back yard installations where you need to power a marine stereo with household current.
This waterproof IPX 5 Standards Rated power supply will provide 10 amps of 12 volt power for a marine stereo using standard household power USA. Plenty of amps for any mobile stereo head unit and/or a typical amplifier.
This unit comes with a wiring harness plug compatible with Inware, JBL, Infinity, and Milennia marine stereos, but it can also be spliced to any other stereo harness.
Accepts power input from 110 volts up to 240 volts .


Options on power input cord ( amp cord set 110 v or 220 v ) In-link ( 110 v or 220 v ) . may be spliced to fit other connectors
amp cord typically used with balboa system controls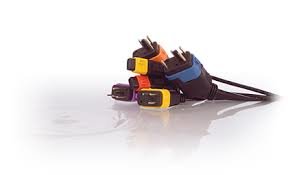 In-link cord ( typically used with Gecko xe and xm systems )
Interchange #:
SPAPOWER9 SPAPOWER9LC240
Reviews