CAL SPAS TROPICAL PZ-722B Hot Tub Spa ( request quote )
CAL SPAS TROPICAL PZ-722B Hot Tub Spa ( request quote )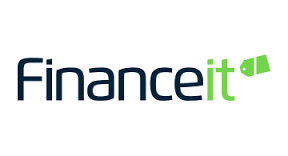 ( est$60.88 bi-weekly )

Warehouse Direct Order to get the tub and options you want .For quote please choose selection and options and we will call you with a quote.

CAL SPAS TROPICAL PZ-722B Hot Tub Spa
6-Person Hot Tub with 22 Jets
Features: Multi-colored LED Lighting, WhisperHot™ Titanium Heater
Dimensions: 84" X 84" X 37"
The Tropical PZ-722B hot tub adds an extra foot of space and two additional water circuit therapy massage seats to exceed your rehabilitation needs. These additional seats place jets along the spine only for added lumbar therapy. Additionally, our whirlpool jet's proprietary design also acts as a three port water diverter control valve. For an intense massage, divert water from passing through all the stainless steel hydrotherapy jets to only half in your seated area. For a delicate massage, switch the diverter valve back to allow the water to pass through all the jets. Or, divert the water to pass only through the whirlpool jet for an indirect massage and maximum filtration. For added convenience, a cool down seat is also incorporated into the mold design making it the best value in its class.
FIBERSTEEL™ CONSTRUCTION
Durability is paramount with it comes to your home investments. That's why Cal Spas hot tubs utilize the exclusive Fibersteel™ Construction Process. The finest acrylic sheets are vacuum molded into shape, then reinforced with vinyl ester and fiberglass. After curing, the shell receives a resin filler coat, fiberglass and calcium carbonate. Stiffener reinforcement supports and 1.5 inch angled irons are added to ensure maximum strength. A final filler coat is applied to seal, bond and toughen the overall structure.
BIO-CLEAN™ ANTIMICROBIAL FILTER WITH TELEWEIR GATE
Our Eco-friendly Bio-Clean™ Antimicrobial Filter utilizes a special bacteria-fighting agent that is molded into the fabric. This unique protectant prevents harmful microbes and bacteria from reproducing and re-entering your water system ultimately minimizing the need of chemical sanitizers during regular cleaning and maintenance.
WHISPER HOT™ TITANIUM HEATER
Titanium's inert properties resist corrosion and calcium build up, making it the most advanced and reliable heater in the industry.
THERMO-SHIELD™ INSULATION
Insulation Cal Spas Thermo-Shield™ insulation system starts by installing a unique material primarily comprised of post consumer recycled denim. This 3" thick insulating material foundation is then thermally bonded with a 99% pure aluminium reinforced foil sheet on one side creating a radiant heat shield which directs motor and equipment heat back into the spa, retaining residual heat and increasing energy efficiency. Next, we install a layer of dual walled reflective bubble foil to the floor area of the spa to reflect heat upward into the spa seat and floor. Finally we add an ABS liner or ABS moulded pan that locks in heat and keep moisture out.
FEATHER TOUCH CONTROL PANELS
An intuitive electronic spa control system designed to easily adjust the settings of the spa to meet your therapeutic needs.
| # | SPECIFICATIONS | VALUE |
| --- | --- | --- |
| 1 | Seating | 6 |
| 2 | Shell Color | Sterling Silver |
| 3 | Dimensions | 84" x 84" x 37" |
| 4 | Weight - Dry | 800 (363 kg) |
| 5 | Weight - Wet/Filled | 4,340 (1,969 kg) |
| 6 | Water Capacity | 425 (1,609 L) |
| 7 | Pump | 2 Sets of HD Power Frame Pump - 1 x 2.0 BHP (1 x 1.0 HP) |
| 8 | Operating Voltage | 110V / 240V |
| 9 | Jets | 22 Stainless Steel Halo Jets |
| 10 | Turbo Diverter Whirlpool Jet | 1 |
| 11 | Headrests | I-Pillow |
| 12 | Air Venturi Valve | Yes |
| 13 | Filter | 50 Sq. Ft. |
| 14 | LED Lighting | Multi-Color LED |
| 15 | Spa Controls | BP501G1 Equipment TP 400U LCD |
| 16 | Insulation | Yes |
| 17 | Heater | WhisperHot™ 5.5 kW Titanium |
| 18 | Pressure Treated Cabinet Frame | Yes |
| 19 | Cabinet Panel | Cal Preferred™ Vertical |
| 20 | Cover | Gray or Slate |
ACRYLIC COLORS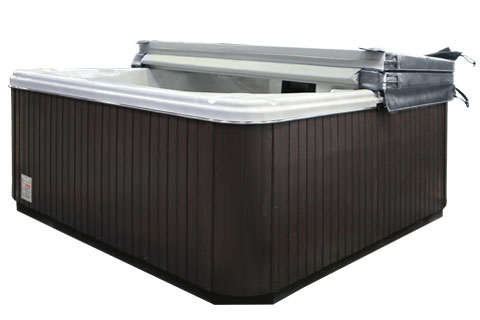 STYLE COLOR CHOICES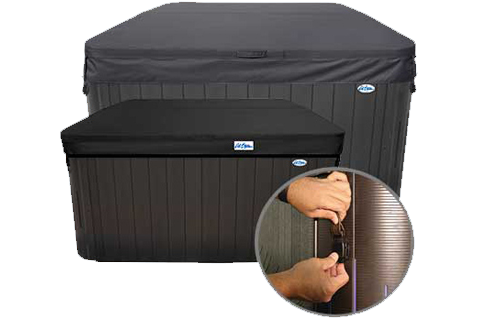 COVER COLORS
Reviews