CAL SPAS MALIBU EC-754DL Hot Tub Spa ( request quote )
CAL SPAS MALIBU EC-754DL Hot Tub Spa ( request quote )
Warehouse Direct Order to get the tub and options you want .For quote please choose selection and options and we will call you with a quote.

CAL SPAS MALIBU EC-754DL Hot Tub Spa
5 Persons hot tub series with 54 jets
Features: Eliminator High Performance ™ Pump, Multi-colored LED Lighting, WhisperHot™ Titanium Heater
Dimensions: 87" X 87" X 39 ½"
The Malibu EC-754DL is a robust 54-jet hot tub in a seven-foot size configuration with double lounger seating to accommodate up to six. The EC-754DL features 54 sleek stainless steel candy cane jets, pillow headrests, a cascading waterfall, and available LED lighting. The EC-754DL gives you hydrotherapy and entertainment features in a space-saving size.
Options Available on Cal spa Hot tub Spas


CAL SPAS FOUNTAIN OF YOUTH™ MIRACLE REVERSE AGE SYSTEM

Fountain Of Youth™ is a new patented hydrotherapy that rejuvenates your body and skin, making you look younger and feel better. The gentle effervescent sensation and silky feel of the water are signs that your body is benefiting from the super saturated water filled with billions of oxygen rich micro-bubbles.
These micro-bubbles, increase oxygen levels in the water and blankets your body, energizing skin cells, stimulating the immune system and collagen production, killing bacteria and promoting healing. Hydrate your body, plump your skin, and reduce fine lines and wrinkles with the Fountain of Youth
TARGETED MUSCLE RELIEF THERAPY ( ATS THERAPY SYSTEM )

The ATS seats are contoured to conform to your body while the jets are placed along the lines of the body for maximum therapy benefits.
Our patented ATS seat features a dedicated motor and control panel that allows you to personalize your massage to seven distinctive pressure levels. In addition, the 14 dedicated jets can be programmed to emit various massage patterns to suite your comfort.
AQUATIC AIR THERAPY™ JETS





The Aquatic Air Therapy™ (AAT) Jets in conjunction with the massage ring provides a massage therapy experience for sore muscles or aching joints. ( Available only in select areas of spa.
( cannot be combined with led jet options )
VP1Pure Silk Ozonator with mazzie injector system
The Eco-friendly PureSilk™ Ozonator by Cal Spas
instantly kills bacteria through exposure to the Ozone while minimizing chemical usage. It features exclusive moisture-sensing technology that delivers virtually maintenance-free operation. The unit automatically shuts off when moisture is detected inside. Once the moisture has dissipated, the unit starts again automatically
Thermo-Guard Full foam Insulation
Insulation is one of the most important aspects to consider when purchasing a hot tub. By incorporating high-quality insulation into the spa structure, Cal Spas is reducing the time it takes for the water temperature to pass from the body of water to the outside environment. By effectively doing so, the time that it takes to heat and maintain water temperature is reduced and in return, saving you money on your electric bill.
SYNERGY™ OR HYBRID CLEAR™ WATER SYSTEM

Combining Ozone and UV water treatment technologies to avoid or reduce the use of chlorine, bromine and other sanitizers to treat a closed water system formulates the Synergy™ System. Water is treated by combining water filtration and purification technology.
QUIET CLEAN™ 100% FILTRATION SYSTEM

The silent Clean Silent hush heat pump filters up 24 / 7 providing up to

100 percent filtration. This pump draws less power consumption than

your main therapeutic pumps.
CALPURE™ SALT SYSTEM ( salt water tub conversion )

Sodium bromide (NaBr) is an effective bacteria killer that should be part of every hot tub's water clarity regimen. The eco-friendly CalPure™ II Salt System instantly turns salt into bromine to keep your hot tub water clean and fresh. This perpetual sanitation cycle kills bacteria, algae and other pathogenic organisms without ever requiring additional sodium bromide. A dedicated digital topside display monitors the salt levels of your spa at all times. The CalPure™ II Salt System also eliminates the need for an Ozonator.
Bluetooth technology lets you control your music through your smart device from anywhere inside, or outside your Cal Spas hot tub. The Freedom™ Sound system comes with subwoofer and 4 speakers.
Start the party with the optional iSound™ iPod Stereo System & FM receiver, speakers and floating RF remote. Just plug your iPod, iPhone or iTouch into the dock and adjust the volume for your favorite soundtrack on demand. iSound comes with
comes with subwoofer and 4 speakers.
( monitor and control your hot tub thru the net )
led also added to pillows on models with the cascade pillows


Enjoy Led lighting upgrade and light up your tub experience .
introduces led lighting in jets and valves for mood effect
FIBERSTEEL™ CONSTRUCTION
Durability is paramount with it comes to your home investments. That's why Cal Spas hot tubs utilize the exclusive Fibersteel™ Construction Process. The finest acrylic sheets are vacuum molded into shape, then reinforced with vinyl ester and fiberglass. After curing, the shell receives a resin filler coat, fiberglass and calcium carbonate. Stiffener reinforcement supports and 1.5 inch angled irons are added to ensure maximum strength. A final filler coat is applied to seal, bond and toughen the overall structure.
BIO-CLEAN™ ANTIMICROBIAL FILTER WITH TELEWEIR GATE
Our Eco-friendly Bio-Clean™ Antimicrobial Filter utilizes a special bacteria-fighting agent that is molded into the fabric. This unique protectant prevents harmful microbes and bacteria from reproducing and re-entering your water system ultimately minimizing the need of chemical sanitizers during regular cleaning and maintenance.
WHISPER HOT™ TITANIUM HEATER
Titanium's inert properties resist corrosion and calcium build up, making it the most advanced and reliable heater in the industry.
THERMO-SHIELD™ INSULATION
Insulation Cal Spas Thermo-Shield™ insulation system starts by installing a unique material primarily comprised of post consumer recycled denim. This 3" thick insulating material foundation is then thermally bonded with a 99% pure aluminium reinforced foil sheet on one side creating a radiant heat shield which directs motor and equipment heat back into the spa, retaining residual heat and increasing energy efficiency. Next, we install a layer of dual walled reflective bubble foil to the floor area of the spa to reflect heat upward into the spa seat and floor. Finally we add an ABS liner or ABS moulded pan that locks in heat and keep moisture out.
FEATHER TOUCH CONTROL PANELS
An intuitive electronic spa control system designed to easily adjust the settings of the spa to meet your therapeutic needs.
| # | SPECIFICATIONS | VALUE |
| --- | --- | --- |
| 1 | Seating | 5 |
| 2 | Shell Color | Deluxe Colors |
| 3 | Dimensions | 87" x 87" x 39 ½" |
| 4 | Weight - Dry | 850 (386 kg) |
| 5 | Weight - Wet/Filled | 4,390 (1,991 kg) |
| 6 | Water Capacity | 425 (1,609 L) |
| 7 | Pump | 2 Sets of HD Power Frame Pump - 2 x 6.0 BHP (2 x 3.0 HP) |
| 8 | Operating Voltage | 240V |
| 9 | Jets | 54 Exclusive Stainless Steel Candy Cane™ Jets |
| 10 | Water Features | Curved Cascade LED Waterfall |
| 11 | Headrests | Y-Pillow |
| 12 | Gate Valves | Yes |
| 13 | Air Venturi Valve | Yes |
| 14 | Filter | 75 Sq. Ft. Megaweir |
| 15 | LED Lighting | Premium LED Lighting Package |
| 16 | Spa Controls | BP501G1 Equipment TP600 Color Control |
| 17 | Insulation | Yes |
| 18 | Heater | WhisperHot™ 5.5 kW Titanium |
| 19 | Cabinet Panel | Cal Preferred™ Horizontal |
| 20 | Cabinet Accessible Drain Valve | Yes |
| 21 | Cover | Gray or Slate |
ACRYLIC COLORS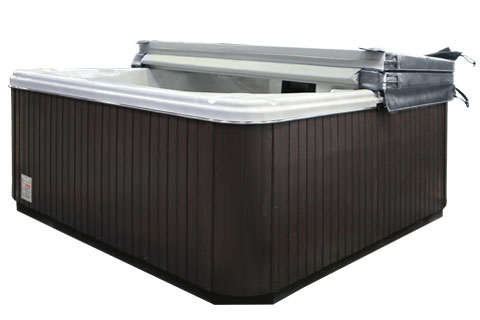 STYLE COLOR CHOICES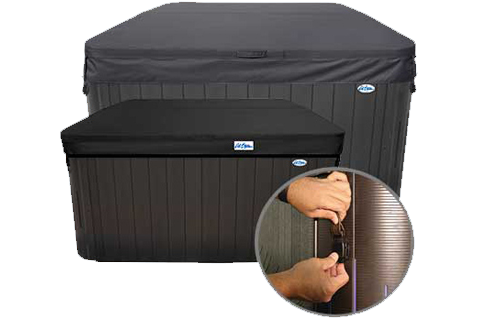 COVER COLORS
Reviews