CAL SPA CHAMPION F-1640 Swimspa ( request qoute )
CAL SPA CHAMPION F-1640 Swimspa ( request qoute )
Warehouse Direct Order to get the swimspa and options you want .For quote please choose selection and options and an we will call you with a quote.
CAL SPA CHAMPION F-1640 Swimspa

Features: Eliminator High Performance™ Pump, WhisperHot™ Titanium Heater, Multi Colored LED
Dimensions: 93" X 200" X 51"
Whether you're a tri-athlete in training or just want to unlock a slimmer, fitter you, the F1640 swim spa has everything you need to get in shape. Hardcore swimmers will love the 2,500-gallons of streaming water and large dimensions for kicking and paddling. The adjustable SwimJet Propulsion System III™ ribbon jets allow you to swim at your own pace, while burning calories and toning muscles. Fitness enthusiasts can take advantage of the available Cal Flex™ Fitness Package for a complete body workout.
| # | SPECIFICATIONS | VALUE |
| --- | --- | --- |
| 1 | Seating | 6 |
| 2 | Shell Color | Sterling Silver |
| 3 | Dimensions | 93" x 171 ½" x 51" |
| 4 | Weight - Dry | 1,800 (818 kg) |
| 5 | Weight - Wet/Filled | 16,794 (7,617 kg) |
| 6 | Water Capacity | 1,800 (6,814 L) |
| 7 | Pump | HD Power Frame Pump - 1 x 6.0 BHP (1 x 3.0 HP) |
| 8 | Swim Jet Pump Including 2" Plumbing and Hi Flow Main Drains | 2 x 6.0 BHP (2 x 3.0 HP) |
| 9 | Operating Voltage | 240V |
| 10 | Jets | 37 Exclusive Stainless Steel Candy Cane™ Jets |
| 11 | Swim Spa Jet Propulsion Systems: I, II and III (River Jets) | 2 Swim Jet System-II |
| 12 | Stainless Steel Exercise Bar | (2) 9" / (1) "27" |
| 13 | Water Features | 6 HydroStreamers |
| 14 | Floor Mounted Swim Lane Marker | Yes |
| 15 | Fitness Anchors | Yes |
| 16 | Tether Anchor | Yes |
| 17 | Cal Flex™ Spa Equipment | Yes |
| 18 | Headrests | I-Pillow |
| 19 | Gate Valves | Yes |
| 20 | Water management Systems | Hybrid Sanitizing System CD Ozone & UV Sanitizing System |
| 21 | Filter | Bio-Clean Filter™ - 100 Sq. Ft. (2 x 50 Sq. Ft. TeleWeir) |
| 22 | LED Lighting | Multi Colored LED 2 x 5" / 6 x HydroStreamers |
| 23 | Spa Controls | BP501X With TP800 Topside and Auxiliary |
| 24 | Insulation | Shell-Loc™ Foam with Thermo-Layer™ |
| 25 | Heater | 5.5 kW Titanium Heater |
| 26 | Floor Drain | Yes |
| 27 | Pressure Treated Cabinet Frame | Yes |
| 28 | Cabinet Panel | Cal Preferred™ Horizontal w/ Vertical Trim |
| 29 | Cabinet Accessible Drain Valve | Yes |
| 30 | Bottom Tray | ABS Bottom Liner |
| 31 | Cover | Gray or Slate |
ACRYLIC COLORS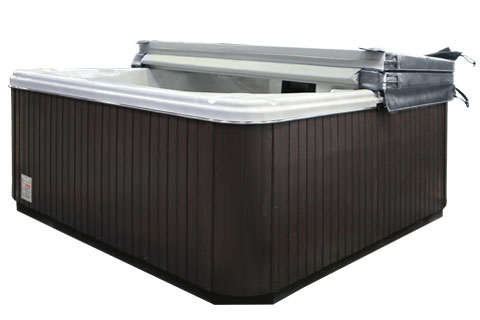 STYLE COLOR CHOICES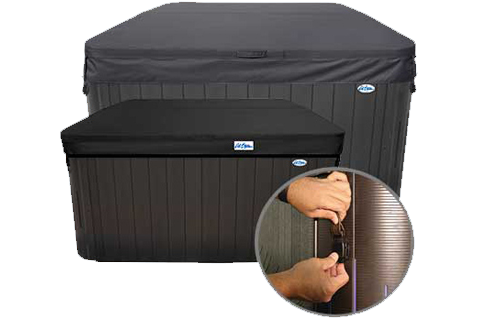 COVER COLORS
Reviews